Mimosa Automatic (Royal Queen Seeds)
27,00 € – 75,00 €
It's not just the delicious citrus taste of Mimosa Automatic that will make you not want to part with it. This powerful autoflowering plant also offers a stimulating experience, ideal for daily use. Plus, it also offers a great harvest in record time.
---
Royal Queen Seeds' Mimosa Automatic: Refreshing Citrus Flavour
In their search for a tasty cannabis variety, the experts at Royal Queen Seeds crossed Mimosa Auto with the resin-rich Orangeade Auto. As a result, Mimosa Automatic was created, a variety with a genetic composition of 65% Sativa, 30% Indica and 5% Ruderalis. It is a combination that covers almost everything you want.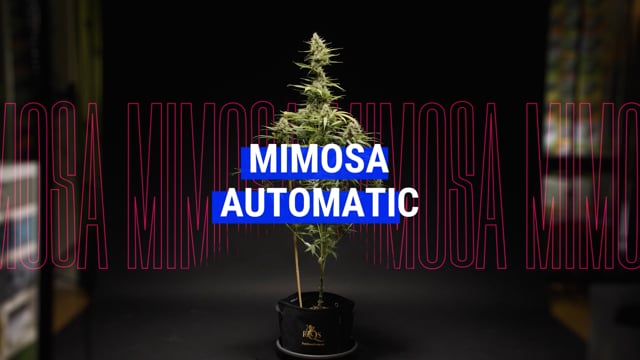 Effect and Taste of Mimosa Auto
Mimosa Automatic is a modern automatic flowering plant with flower power and quality that rivals the characteristics of the photoperiod varieties. Its 21% THC content fuels a very powerful effect that will bring a big smile on your face. Mimosa Auto is ideal for all kinds of activities and can be consumed throughout the day. Its flavour profile – you guessed it right – includes intense flavours of citrus, orange, lime and lemon, but also notes of diesel. It has the perfect taste to satisfy the true connoisseurs of cannabis!
Growing Mimosa Auto Growing Mimosa
In the grow room, Mimosa Automatic reaches a height of 60-150cm (80-160cm outdoors), which means it can fit even in tight spaces. The Mimosa Automatic will give you its delicious flowers very quickly. In just 10 weeks after germination, it will have completed its flowering period of 7-8 weeks and will reward indoor growers with up to 400g/m². Outdoors the yield will reach up to 130g per plant.
If you want to grow a tasty automatic flowering plant that is quick and easy, but also offers a great first-class crop, then you should definitely try Royal Queen Seeds' Mimosa Automatic!
| | |
| --- | --- |
| Ποσότητα σε Σπόρια | 10 σπόροι, 3 σπόροι, 5 σπόροι |
Brand
Royal Queen Seeds
Πριν δημιουργηθεί η τράπεζα σπόρων της το 2007,  η RQS είχε μακροχρόνια γνώση και πάθος για την καλλιέργεια της κάνναβης. Μετά το τεράστιο ενδιαφέρον για τις ποικιλίες της, άνοιξε το πρώτο της  κατάστημα στο Άμστερνταμ, στην οδό Damstraat, το 2010. Το 2011, εγκαινιάσε την ιστοσελίδα της Royal Queen Seeds. Λόγω της αυξανόμενης ζήτησης, ανοίξε κι ένα άλλο κατάστημα στο Άμστερνταμ το 2015, στη Haarlemmerstraat, και το 2016 καλωσορίσε τους πρώτους της πελάτες στο κατάστημά της στην οδό Carrer de Pelai στη Βαρκελώνη της Ισπανίας. Σήμερα, η RQS λειτουργεί σε 17 χώρες στην Ευρώπη και προσφέρει 90+ ποικιλίες υψηλής ποιότητας, καθώς και εξοπλισμό, συμβουλές και γνώσεις.