Haze Berry Automatic: Discriminating Sativa Effect For Daytime Use
Haze Berry Automatic is the dominant successor to the legendary Haze Berry. Our experienced growers have crossed this impressive variety with an excellent Ruderalis variety to give it autoflowering characteristics. Haze Berry is a well-known variety throughout the global cannabis community. It comes from Afghan genes and came to life in the cannabis mecca of California. It has been recognized for its intense terpene profile and tonic uplift. By crossing this variety with an automatic, our growers have managed to make it much easier to grow, while achieving faster flowering.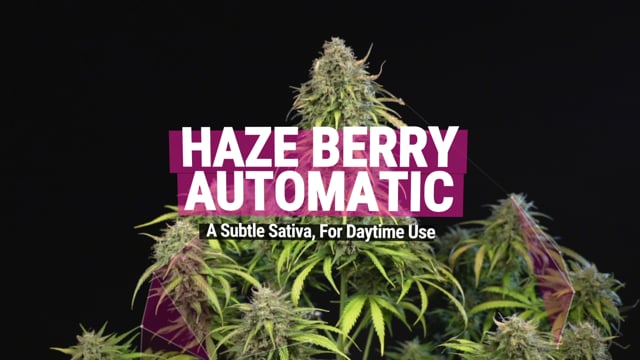 Effect and taste profile of Haze Berry Automatic
Haze Berry Automatic inherited the characteristic effect of Haze Berry (Blue Dream). Its mainly Sativa profile increases the activity of the central nervous system, stimulating the brain. However, its flowers have a THC content of only 13%. While this figure may seem relatively low, it is considered ideal by many smokers. Its psychoactive effects are subtle and manageable. This makes the variety ideal for occasional use throughout the day. Haze Berry Auto can be smoked between jobs or during breaks, replacing coffee. It slightly stimulates and refreshes the mind, causing a more creative perspective on things.
The fruity taste of Blue Dream complements its effect
Our growers created the Haze Berry Automatic variety following in the footsteps of the world famous Blue Dream variety. The similarity of the terpene profile of these two varieties is striking, which offers irresistibly sweet fruit flavours. These taste delights are accompanied by high levels of myrcene, pinene and caryophyllene.
The cultivation of Haze Berry Automatic
Haze Berry Auto is a very easy variety to grow. If you are new to growing or have limited time to invest, this is the variety for you. It will be ready for harvest in just 10 weeks after germination and reaches a height of about 100cm. When grown indoors, Haze Berry Auto offers a moderate yield. Plants grown outdoors in beds or pots offer 80-150g/plant.
| | |
| --- | --- |
| Ποσότητα σε Σπόρια | 10 σπόροι, 3 σπόροι, 5 σπόροι |
Brand
Royal Queen Seeds
Πριν δημιουργηθεί η τράπεζα σπόρων της το 2007,  η RQS είχε μακροχρόνια γνώση και πάθος για την καλλιέργεια της κάνναβης. Μετά το τεράστιο ενδιαφέρον για τις ποικιλίες της, άνοιξε το πρώτο της  κατάστημα στο Άμστερνταμ, στην οδό Damstraat, το 2010. Το 2011, εγκαινιάσε την ιστοσελίδα της Royal Queen Seeds. Λόγω της αυξανόμενης ζήτησης, ανοίξε κι ένα άλλο κατάστημα στο Άμστερνταμ το 2015, στη Haarlemmerstraat, και το 2016 καλωσορίσε τους πρώτους της πελάτες στο κατάστημά της στην οδό Carrer de Pelai στη Βαρκελώνη της Ισπανίας. Σήμερα, η RQS λειτουργεί σε 17 χώρες στην Ευρώπη και προσφέρει 90+ ποικιλίες υψηλής ποιότητας, καθώς και εξοπλισμό, συμβουλές και γνώσεις.