Purple Punch Automatic (Royal Queen Seeds)
25,00 € – 70,00 €
Royal Queen Seeds' Purple Punch Automatic is the automatic flowering version of the popular Purple Punch variety. Like the corresponding photo-period variety, it has a great marshmallow flavor and is quite strong, offering a very relaxing experience. Now you can grow it in record time and enjoy many more benefits thanks to self-adaptation genetics.
---
Royal Queen Seeds – Purple Punch Automatic: a delicious Fruity Automatic Flowering Plant
The stunning Purple Punch variety is famous for its sweet berry and marshmallow flavours and is now also available as a self-adapting plant. The experts at RQS created the automatic version of this popular, sweet variety by crossing it with the Old Skunk Auto variety. The result was Purple Punch Automatic, a strong, intense variety consisting of 75% Indica, 20% Sativa and 5% Ruderalis genes.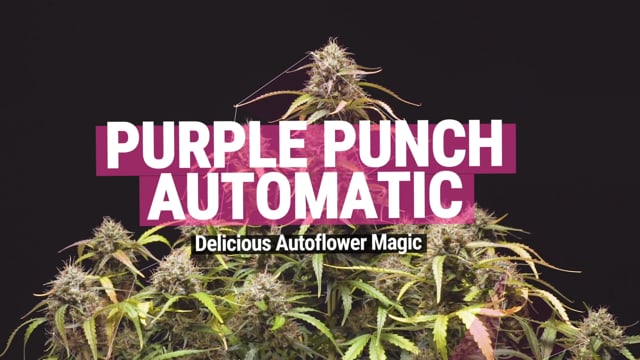 Delicious Self-indulgence Magic: Purple Punch x Old Skunk Auto
Purple Punch Automatic, as a last generation self-adapting variety, is not inferior to any of the photo-period cannabis varieties in terms of potency and taste. With 19% THC, you can be sure that it will provide you with powerful results. Its effect is physical and immersive, so it is a variety ideal for relaxation in the evening. The flavours of caramel and a mixture of berries and grapes, as well as the aroma of fresh tart, create a very enjoyable smoke.
Growing Purple Punch Automatic Growing Purple Punch Automatic
Old Skunk, the variety used to make Purple Punch Auto, is known to produce robust plants and gives stable growth characteristics to many varieties. Thus, Purple Punch Auto grows as a compact plant that will rarely exceed a height of 100cm indoors. When grown outdoors, it will grow slightly taller, reaching 80-120cm. It is an ideal variety for growing in smaller spaces, such as balconies or terraces. Purple Punch Auto doesn't waste time: you'll notice a short flowering period of 7-8 weeks, which means you can harvest your crop in just 10 weeks after germination. It provides decent yields of 350-400g/m² indoors and up to 150g per plant outdoors.
If you're looking for a reliable self-seeding plant, put Royal Queen Seeds' Purple Punch Auto at the top of your list of varieties to grow next year.
| | |
| --- | --- |
| Ποσότητα σε Σπόρια | 10 σπόροι, 3 σπόροι, 5 σπόροι |
Brand
Royal Queen Seeds
Πριν δημιουργηθεί η τράπεζα σπόρων της το 2007,  η RQS είχε μακροχρόνια γνώση και πάθος για την καλλιέργεια της κάνναβης. Μετά το τεράστιο ενδιαφέρον για τις ποικιλίες της, άνοιξε το πρώτο της  κατάστημα στο Άμστερνταμ, στην οδό Damstraat, το 2010. Το 2011, εγκαινιάσε την ιστοσελίδα της Royal Queen Seeds. Λόγω της αυξανόμενης ζήτησης, ανοίξε κι ένα άλλο κατάστημα στο Άμστερνταμ το 2015, στη Haarlemmerstraat, και το 2016 καλωσορίσε τους πρώτους της πελάτες στο κατάστημά της στην οδό Carrer de Pelai στη Βαρκελώνη της Ισπανίας. Σήμερα, η RQS λειτουργεί σε 17 χώρες στην Ευρώπη και προσφέρει 90+ ποικιλίες υψηλής ποιότητας, καθώς και εξοπλισμό, συμβουλές και γνώσεις.