Sherbet Queen Automatic (Royal Queen Seeds)
23,00 € – 65,00 €
Delicious terpenes? Yes. Huge THC content? Yes. Big crops? Yes! The Sherbet Queen Automatic has it all. It is no coincidence that it is one of the most popular species among growers who love self-adapting varieties. It will give you rich crops full of Indica flowers after a rapid growth cycle. Get ready to harvest just within 8-9 weeks.
---
Sherbet Queen Automatic: a fruity delight
Sherbet Queen Automatic leaves most automatic flowering strains behind in terms of both taste and potency. It is the result of a dedicated cultivation effort and we are pleased to offer it to you as one of the most successful self-adapting varieties in our genetic catalogue. It takes up little space, offers rich harvests and gives an immediate and pleasant effect.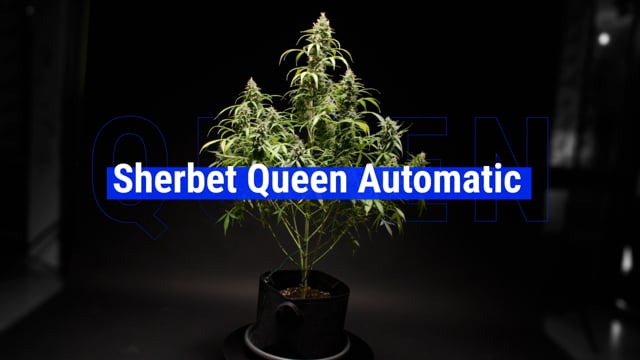 Sherbet Queen Automatic: Enjoy the Best Features of Pink Panties and Cookies Auto
The Sherbet Queen started her career as a dream. Our team of growers wanted to continue to set the bar high for the best self-adapting varieties and this time they decided to do so by offering impressive potency and great taste. To achieve this, our experts started with Pink Panties-the delicious offspring of two sour Kush varieties-and decided to mate it with Cookies Auto to add extra sweetness and native genetic characteristics.
After perfecting their mix and after many successive matings, Sherbet Queen Automatic was born, with a genetic profile of 65% Indica, 30% Sativa and 5% Ruderalis.
Growing the Sherbet Queen Auto: When Growing Becomes Walking
The Sherbet Queen Automatic offers decent yields in a small and concentrated package. It is an excellent choice for beginner growers who want an easy variety to get started with cannabis cultivation. Indoors the plants will reach 70-100cm and produce an impressive 325-425g/m². To maximize the harvest, we recommend growing 4-6 plants in your plot, while using the ScrOG technique can significantly enhance the harvest.
Outdoors the plants will reach 90-120cm. Watch the gorgeous flowers of this variety produce a thick layer of trichomes and orange-yellow hypericrons. Get ready to harvest up to 150g/plant within just 8-9 weeks after germination.
Effects, Aroma and Taste of Sherbet Queen Auto: Genetic Indica at its Best
These concentrated and sticky flowers have a THC content of close to 20%. This fact, together with its Indica characteristics, make it a powerful effect that soothes any physical discomfort. The taste is sweet and fruity, making every sip a pleasure you can experience again and again.
| | |
| --- | --- |
| Ποσότητα σε Σπόρια | 10 σπόροι, 3 σπόροι, 5 σπόροι |
Brand
Royal Queen Seeds
Πριν δημιουργηθεί η τράπεζα σπόρων της το 2007,  η RQS είχε μακροχρόνια γνώση και πάθος για την καλλιέργεια της κάνναβης. Μετά το τεράστιο ενδιαφέρον για τις ποικιλίες της, άνοιξε το πρώτο της  κατάστημα στο Άμστερνταμ, στην οδό Damstraat, το 2010. Το 2011, εγκαινιάσε την ιστοσελίδα της Royal Queen Seeds. Λόγω της αυξανόμενης ζήτησης, ανοίξε κι ένα άλλο κατάστημα στο Άμστερνταμ το 2015, στη Haarlemmerstraat, και το 2016 καλωσορίσε τους πρώτους της πελάτες στο κατάστημά της στην οδό Carrer de Pelai στη Βαρκελώνη της Ισπανίας. Σήμερα, η RQS λειτουργεί σε 17 χώρες στην Ευρώπη και προσφέρει 90+ ποικιλίες υψηλής ποιότητας, καθώς και εξοπλισμό, συμβουλές και γνώσεις.